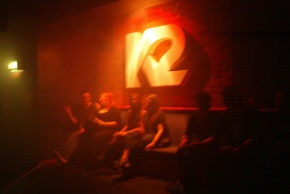 Thursday Night in the K2!
Thursday nights on K2 are based on the 'here & now'. It's cutting edge new music going head on with some choice classic anthems. Indie, nu-rave, electro, emo... Actually, fuck genres, let's just have fun!

Get in early to hear the latest new promo releases; You can say you heard it here first. I also like to spin a few tasty remixes early on but at the end of the day it's what you want that matters so if you wanna hear something, feel free to bug me... I may just listen! Check out the chart below to see what's cutting it on the floor at the moment
The Smiths // Two Door Cinema Club // The Cure // Pulp // Yeah Yeah Yeah's // Radiohead // MGMT // Blur // Vampire Weekend // Mumford And Sons // Stone Roses // The Pixies // Bloc Party // Queens Of The Stone Age // The Jam // Elbow // Libertines // Arcade Fire // Gorillaz // Phoenix // Muse
Request a song for the K2! - Thursday
Please use the form below to send any of your song requests for the K2 on a Thursday night!

Please request your song including Artist and Track title, one song request per line.

Please note that whilst we do our best to accommodate your request, requesting a track does not guarantee that it will be played, the DJs decision is final. Also, any request for a given night must be sent by 2pm on the same day.
K-Newsletter Delivered Direct To Your Inbox:
Sign up to our mailing list to recieve all the latest news, updates and special offers direct to your inbox!