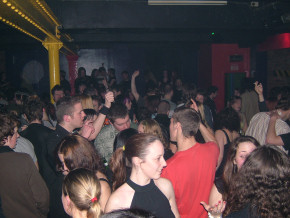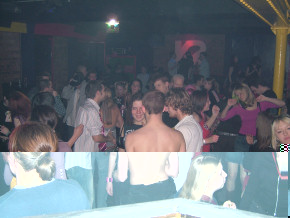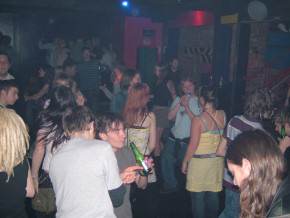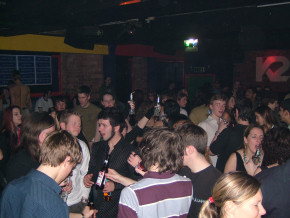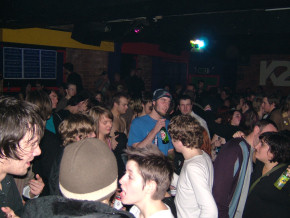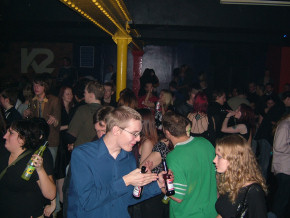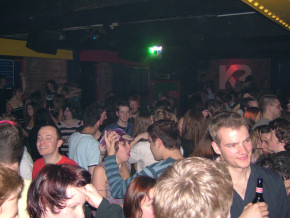 Fridayís on K2 means the best in indie, rock/alternative, punk, emo, screamo & hardcore- both old and new.

The early set will comprise a varied mix of music- one week it could be a mammoth set of indie classics, the next a set of remixes from the new school (The Killers, The Futureheads, Bloc Party etc.) or then again it might be a load of bands youíve never heard of... YET; you never can tell, which is the way itís gonna stay!
If itís that random album track youíre after or the single which never quite made it in the big league, the early set is for you...

Once 11pm rolls round, the more Ďuser friendlyí tracks will start to emerge and itís this route weíll be taking for the remainder of the night (give or take the odd indulgence, where relevant of course!! :-p)

Tracks from The Killers, Franz Ferdinand & Arctic Monkeys will be rubbing shoulders with Blink 182, Reel Big Fish & Less Than Jake via the ever popular emo route of Coheed and Cambria, Brand New & Head Automatica whilst not forgetting the old school geniusí of The Clash, The Undertones, The Smiths & Blondie etc...

If itís the heavier end of the spectrum that does it for you (Bleeding Through, Avenged Sevenfold, From Autumn to Ashes etc) then youíre gonna want to get in early...

Obviously I canít go listing EVERY band Iím gonna be playing but check out this list for a general guide (and a song for each, but obviously Iíll be playing others too!!)Ö If Iíve missed out a band you love just come up to the DJ box and ask me and if I reckon itís worth playing, Iíll stick it on...
An A-Z selection of Friday on the K2
AFI // Girls Not Grey
Alexisonfire // Accidents
Alkaline Trio // Time to Waste
All American Rejects // Swing, Swing
American Hi-Fi // The Art of Losing
Arcade Fire // Rebellion (Lies)
Arctic Monkeys // I Bet You Look Good on the Dancefloor
As I Lay Dying // 94 Hours
Ash // Girl from Mars
At the Drive In // One-Armed Scissor
The Ataris // The Boys of Summer
Atreyu // Right Side of the Bed
Avenged Sevenfold // Unholy Confessions
Babyshambles // Killamangiro
Beastie Boys // Intergalactic
Beck // Sexx Laws
Biffy Clyro // 57
Billy Talent // Try Honesty
The Bled // You Know Whose Seatbelt
Bleeding Through // Love Lost in a Hale of Gunfire
Blink 182 // The Rock Show
Bloc Party // Banquet (Phones Disco Edit)
Blondie // One Way or Another
Bloodhound Gang // The Bad Touch
Blur // Boys & Girls
Bowling for Soup // 1985
Box Car Racer // I Feel So
Boy Sets Fire // Last Year's Nest
Brand New // Sic Transit Gloria
The Bravery // An Honest Mistake
Clap Your Hands Say Yeah // Is This Love?
The Clash // Rock the Casbah
Coheed and Cambria // A Favour House Atlantic
Coldplay // Yellow
The Coral // Dreaming of You
Cribs // Hey Scenesters
The Cure // The Lovecats
Datsuns // Motherfucker from Hell
The Dead 60's // Riot Radio
Death from Above 1979 // Romantic Rights
Death in Vegas // Aisha
Depeche Mode // Precious
Distillers // Drain the Blood
Dizzee Rascal // Fix Up Look Sharp
Do Me Bad Things // What's Hideous
Dogs Die in Hot Cars // Lounger
Editors // Munich
The Eighties Matchbox B-Line Disaster // Rise of the Eagles
Fall Out Boy // Sugar, We're Goin' Down
Fat Boy Slim // Praise You
Feeder // Just a Day
Finch // Bitemarks and Bloodstains
Fischerspooner // Just Let Go
Foo Fighters // Everlong
Franz Ferdinand // Do You Want To
From Autumn to Ashes // The After Dinner Payback
From First to Last // Ride the Wings of Pestilence
Fun Lovin Criminals // Scooby Snacks
Funeral for a Friend // Escape Artists Never Die
The Futureheads // Hounds of Love
Garbage // Why Do You Love Me
Goldie Lookin Chain // Your Missus is a Nutter
Goldfinger // 99 Red Balloons
Goldfrapp // Ooh La La
Good Charlotte // Lifestyles of the Rich and Famous
Gorillaz // Dare
Graham Coxon // Freakin' Out
Green Day // Hitchin' a Ride
Happy Monday's // Step On
Hard-Fi // Hard To Beat
Hatebreed // This is Now
Hawthorne Heights // Ohio is for Lovers
Head Automatica // Beating Heart Baby
The Hives // Walk Idiot Walk
Hot Hot Heat // Bandages
Hundred Reasons // If I Could
The Icarus Line // Up Against the Wall Motherfuckers
Idlewild // When I Argue I See Shapes
Interpol // Slow Hands
The Jam // Town Called Malice
Janes Addiction // Been Caught Stealin'
Jesus & Mary Chain // April Skies
Jet // Are You Gonna Be My Girl
Jimmy Eat World // Salt, Sweat, Sugar
Johnny Panic // Burn Your Youth
Kaiser Chiefs // Oh My God
Kasabian // Club Foot
The Killers // Somebody Told Me
Kings of Leon // Four Kicks
Lady Sovereign // Hoodie
Ladytron // Destroy Everything You Touch
LCD Soundsystem // Daft Punk is Playing at My House
Less Than Jake // Gainesville Rock City
The Libertines // Time for Heroes
Lit // My Own Worst Enemy
Lost Prophets // Last Train Home
Mansun // Wide Open Nice
Mars Volta // Inertiatic ESP
Maximo Park // Apply Some Pressure
Modest Mouse // Float On
Morrissey // First of the Gang to Die
Mos Def // Sex, Love & Money
Muse // Muscle Museum
The Music // Freedom Fighters
My Chemical Romance // Helena
Mylo // Drop the Pressure
NERD // Rock Star
New Found Glory // All Downhill from Here
New Order // True Faith
Nine Black Alps // Shot Down
Nirvana // In Bloom
No Doubt // Don't Speak
NOFX // Dinosaurs will Die
Oasis // Don't Look Back in Anger
Offspring // Hit That
The Ordinary Boys // Week in Week Out
Pixies // Debaser
Placebo // Nancy Boy
Primal Scream // Rocks
Queens of the Stone Age // No One Knows
Radiohead // Just
Rage Against the Machine // Killing in the Name
The Ramones // Blitzkrieg Bop
Rancid // Time Bomb
Razorlight // Somewhere Else
Red Hot Chili Peppers // By the Way
Reef // Place Your Hands
Reel Big Fish // Sell Out
Rocket from the Crypt // On a Rope
Simple Plan // Shut Up
The Smiths // This Charming Man
Something Corporate // Punk Rock Princess
Soulwax // NY Excuse
Stereophonics // More Life in a Tramps Vest
The Stills // Lola Stars and Stripes
The Stone Roses // Love Spreads
Story of the Year // Until the Day I Die
The Streets // Fit But You Know It
The Strokes // Juicebox
Suede // Animal Nitrate
Sugarcult // Memory
Sum 41 // Fat Lip
Super Furry Animals // The Man Don't Give a Fuck
Supergrass // Moving
Taking Back Sunday // Cute without the 'E'
Three Days Grace // I Hate Everything About You
The Undertones // Teenage Kicks
The Used // Take It Away
The Vines // Get Free
Weezer // Undone (The Sweater Song)
The White Stripes // My Doorbell
Yeah Yeah Yeah's // Date with the Night
Yourcodenameis:Milo // 17
Zebrahead // Rescue Me
The Zutons // You Will You Won't
Request a song for the K2! - Friday
Please use the form below to send any of your song requests for the K2 on a Friday night!

Please request your song including Artist and Track title, one song request per line.

Please note that whilst we do our best to accommodate your request, requesting a track does not guarantee that it will be played, the DJs decision is final. Also, any request for a given night must be sent by 2pm on the same day.
K-Newsletter Delivered Direct To Your Inbox:
Sign up to our mailing list to recieve all the latest news, updates and special offers direct to your inbox!